---
Resistors
Resistors in Series
The figure below shows two resistors connected in series between points A and B.
Two resistors in series.
When resistors are connected in series, total resistance (Rt) is equal to the sum of the individual resistances.
As an equation:
Note: The subscript n denotes any number of additional resistances that might be in the equation.
Example:

In the figure below a series circuit consisting of three resistors: one of 10 Ω, one of 15 Ω, and one of 30 Ω, is shown. What is the total resistance?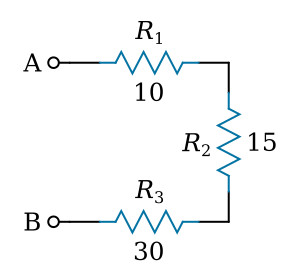 Series circuit with three resistors.
Solution:
---
---